Belmont Rail Trail Project
The City of Belmont is working with the North Carolina Department of Transportation (NCDOT) to build a 10-foot greenway along the inactive railroad corridor that runs from downtown Belmont north to Belmont Abbey College and on to Woodlawn Avenue.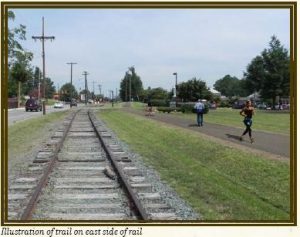 Purpose
This trail would provide a safe and convenient pedestrian and bicycle connection between downtown, the Sisters of Mercy, Belmont Abbey College, and North Belmont. It is also a part of the Carolina Thread Trail.
Feasibility Study
The City completed a feasibility study on the project in 2011 that was funded by a grant by the Carolina Thread Trail. The study was conducted by LandDesign and HDR and was facilitated by a steering committee consisting of representatives from:

Belmont Abbey

Carolina Thread Trail

staff

City staff

Local residents

NCDOT

Sisters of Mercy
Feedback & Location
The study included the feedback we received during several public meetings and from interviews with stakeholders. The study showed the preferred location of the greenway, which will be the east side of the railroad tracks for most of the corridor from Belmont Abbey to downtown.
Special Approval Needed
As the NCDOT and City of Belmont were ready to begin the design of the project, both parties were informed that special legislative approval from the North Carolina (NC) General Assembly was needed for the project to continue.  Thanks to the leadership of NC Senator Kathy Harrington and NC Representative John Torbett, this special legislation was approved and signed into law by Governor Pat McCrory in June 2013.
Public Hearing
This legislation requires that the City of Belmont hold a public hearing on the project and seek input from property owners along the rail corridor. The Belmont city council held a public hearing on the project during its November 3, 2014 meeting.
Leasing of the Rail Corridor
The rail trail law also requires that the City lease the portion of the rail corridor that the rail trail will be built from NCDOT. The law also requires that owners of property where the rail trail will be built sign this lease agreement. This process is underway.
Design & Engineering
Once the lease is in place, the NCDOT and City will begin the project design and engineering. Upon receiving approval of the design, NCDOT will put the construction project out for bid proposals. Once a contractor has been awarded, then the construction can begin.