Projects
I-85 Widening
STIP #: I-5719, U-3608 & U-5800
The N.C. Department of Transportation plans to improve about 10 miles of I-85 from U.S. 321 (Exit 17) in Gastonia to N.C. 273 (Exit 27) in Belmont to address existing and future congestion and to improve traffic flow.  This critical stretch of highway connects Gastonia to other cities and towns in Gaston County and serves as a vital corridor for commuters within the Charlotte metropolitan area.  Proposed work would involve widening the roadway from six to eight lanes and replacing or rebuilding bridges over the interstate as well as upgrading interchanges.
Due to its proximity, construction schedule and association with I-85, proposed work also includes widening three-tenths of mile of N.C. 7 from I-85 to U.S. 29 Belmont (STIP Project No. U-3608), and improvements to the Main St/ Wilkinson Blvd intersection (STIP Project No. U-5800).
For more information, please visit the NCDOT project website.
State Transportation Improvement Program (STIP)
Current funded road and bridge projects  are included in the STIP, a 10 year State and Federal-mandated plan that identifies the construction funding for and scheduling of transportation projects throughout the state.  Click on the map below to see more information on each project identified in the current STIP. 
Catawba Crossings Feasibility Study
For many years, regional discussions have taken place regarding the need to provide additional eastwest transportation capacity by way of an additional bridge crossing between southeast Gaston County and Mecklenburg County.
The Catawba Crossings Feasibility Study will incorporate an approach that provides for meaningful engagement of interested parties in determining the purpose of and need for new crossing(s) of the Catawba River, within the general vicinity of the Catawba River south of the existing US 74 crossing and connecting NC 279 to I-485.
The Gaston Cleveland Lincoln MPO has selected Gannett Fleming as the consulting firm for the feasibility study of the Catawba Crossings transportation project. The goal of this study is to determine if a transportation connection between South New Hope Road, South Point Road, the River District, I-485, and West Boulevard is needed. This is a required step by NCDOT for this potential project to be considered for a state route number and scoring in SPOT 7.0.
NEXT STEPS
• Data Collection and Background Research (Underway)
• Steering Committee Meetings (Ongoing)
• Stakeholder Interviews (September – November 2020)
• Virtual Public Meeting (November 2020)
• Traffic Forecast Development (June 2020 – February 2021)
• Conceptual Roadway Design Development (June 2020 – March 2021)
• Preliminary Hydraulic Study (May – August 2020)
• Preliminary Structure Design (October 2020 – January 2021)
• Preliminary Purpose and Need Development (November 2020 – February 2021)
• Alternative Analysis (February – March 2021)
• Public Informational Open House Meeting (April 2021)
• Local Government Presentations (September – November 2021)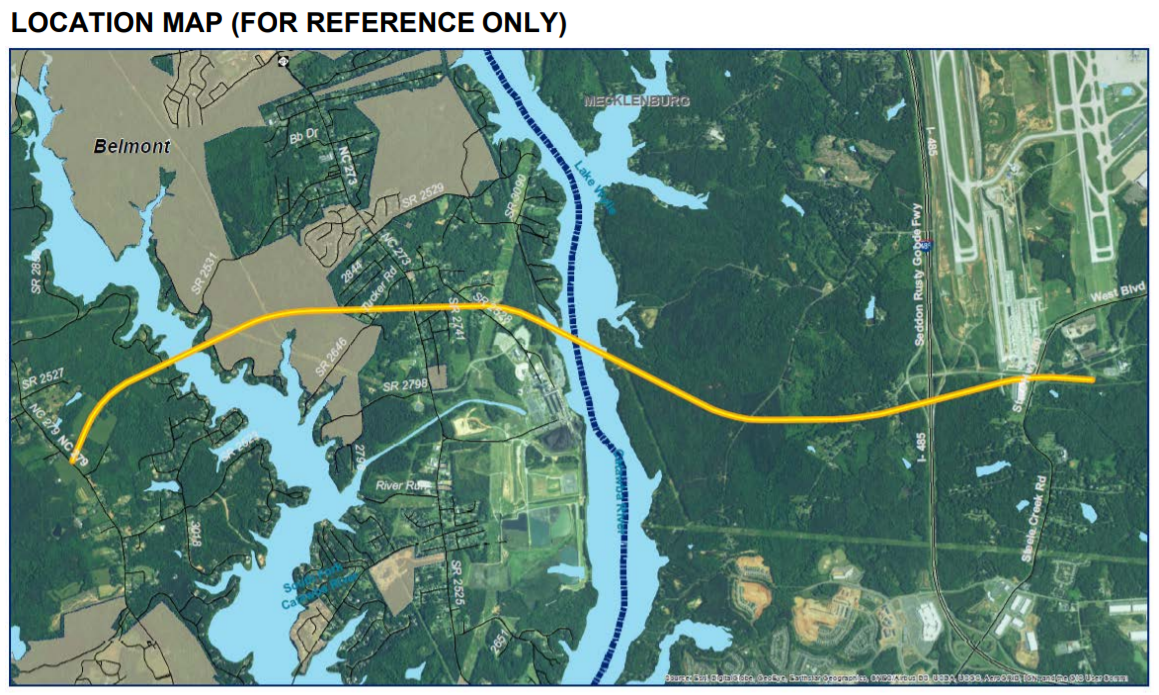 Build a Better Boulevard
City of Belmont, Town of Cramerton, and Town of McAdenville
The Build a Better Boulevard Plan (full plan here) was honored with the prestigious 2015 Marvin Collins Award, the highest planning award of the North Carolina chapter of the American Planning Association.
This plan began as a study to identify landscape and signage improvements aimed at transforming the commercial boulevard into an attractive gateway. Calling the project "Build a Better Boulevard," Metrocology delivered a comprehensive list of interventions to re-envision the boulevard's role within the regional transportation system in addition to improving its appearance and function within the three municipalities.
Comprehensive Transportation Plan
The Comprehensive Transportation Plan (CTP) is a long range planning document that will assist the local government and its representatives in making transportation decisions over the next 30+ years. This is a joint effort between the Gaston-Cleveland-Lincoln Metropolitan Planning Organization (GCLMPO), local counties, towns, and the NCDOT – Transportation Planning Branch (TPB). The CTP involves both government officials and the public in an effort to determine the area's future transportation needs based on the best information available. (Click here for more information)
2045 Metropolitan Transportation Plan
The Metropolitan Transportation Plan (MTP) for the GCLMPO is the locally-adopted, fiscally-constrained, long-range transportation plan for Cleveland, Gaston, and Lincoln counties. The MTP is based on the most accurate and complete information available including, but not limited to, population and economic development growth and land development patterns in and around the urban area. The 2045 MTP was adopted on March 22, 2018. (Click here for entire plan)
Belmont - Mount Holly Loop
The GCLMPO has worked to complete corridor studies for several corridors that are considered most threatened by development, including the southern portion of the Belmont-Mount Holly Loop. This currently unfunded regional tier highway project would include the construction of 4.7 miles of new, four-lane divided roadway from South Point Road to US 29/74 (Wilkinson Boulevard).