About
Keep Belmont Beautiful is an affiliate of Keep America Beautiful and received its certification in 2001. For more information about Keep America Beautiful, please click here or on the logo below.

Mission
Keep Belmont Beautiful was created with the mission of promoting and educating citizens on the importance of litter reduction and recycling.
Community Involvement
Keep Belmont Beautiful has implemented a city wide litter prevention and recycling encouragement program that is made possible through the efforts of volunteers and local citizens. Keep Belmont Beautiful also awards grants to multiple local area schools annually. These grants are awarded to help fund outdoor campus improvements and improved beautification. Additionally, Keep Belmont Beautiful has also acted as a sponsor for several local civic projects.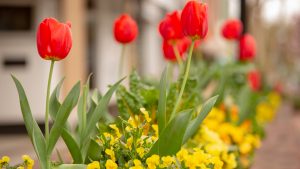 Contact
Beryl Campbell is the Keep Belmont Beautiful coordinator for the City of Belmont. If you would like more information about Keep Belmont Beautiful or are interested in volunteering, you may click on the Contact button below to visit Beryl's contact page.