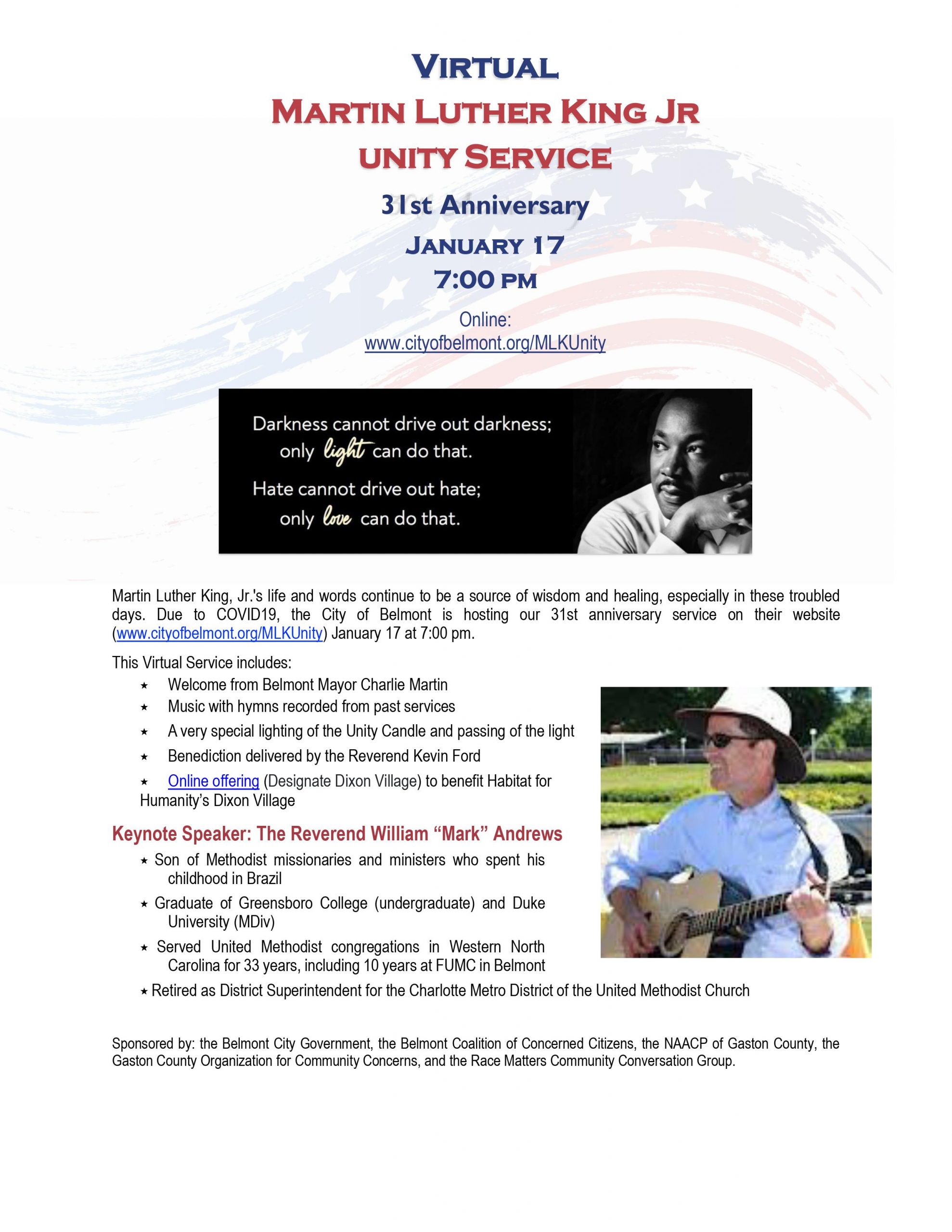 The 31st annual Martin Luther King, Jr. Unity Celebration sponsored by the City of Belmont, the Belmont Coalition of Concerned Citizens, the Gaston County NAACP, the Gaston County Organization for Community Concerns, and Race Matters Community Conversation will take place Monday, January 17th, 7pm. For the second year the service will be held virtually and hosted by the City of Belmont on its website. While organizers regret not being able to gather safely in person, the virtual service allows participants from all over the county, state, and beyond to participate live or at a later time. Last year almost the celebration was viewed almost 1200 times.
Mayor Charlie Martin will offer the welcome. The lighting of the Unity Candle by approximately thirty area children and teens will again be a part of the service. Local choirs will provide music. And the Reverend William Mark Andrews will offer the message.
The son of Methodist missionaries and later a "preacher's kid," Reverend Andrews spent his childhood in Brazil and later western North Carolina. He attended Greensboro College for his undergraduate education and Duke University, where he earned his Master of Divinity in 1986. For thirty-three years Mark and his wife Denise served churches in the Western NC Conference, including First United Methodist Church in Belmont, where he served for ten years. In his final appointment Mark served as the District Superintendent for the Charlotte Metro District of the United Methodist Church.
Mark treasures being husband to Denise, father to daughter Courtney and son-in-law Phillip Clapp; plus son Wilson, daughter-in-law Carol; and, best of all, grandfather to Avery Clapp. Now retired, he spends his time with family, cycling, kayaking, playing tennis, and working towards racial reconciliation.
The online offering will benefit Habitat for Humanity's Dixon Village in North Belmont. To learn more about this ministry and donate, click here. Please designate Dixon Village when you donate.
Please mark your calendars, and join us online Monday, January 17th, 7pm, to celebrate Dr. King's legacy and our unity as a community.